BEELDVERSLAG LATEN MAKEN?
Beeldverslag of visueel verslag laten maken?

Laat jouw notulen live (en eventueel op afstand) tekenen.
Bij bijeenkomsten wordt vaak veel gezegd en afgesproken. Maar wat was ook alweer de kern en de conclusie? En hoe onthouden we dat met z'n allen? Juist. Met een beeldverslag of visueel verslag.
WAT DOET EEN….
Wat doet een visueel verslaggever? Tijdens een offline of online event maakt een visueel verslaglegger live de essentie van de verhalen zichtbaar door woord en beeld te combineren. Zie het als visueel oogsten van informatie. Deelnemers aan het event kunnen de tekening direct zien ontstaan. De opbrengst is na de bijeenkomst in één oogopslag zichtbaar en achteraf te delen met de deelnemers.
BEKIJK ONS PORTFOLIO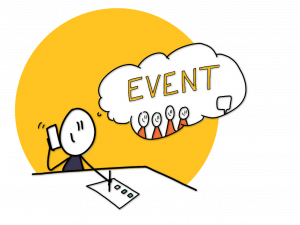 VOOR WIE?
Organisatoren van events en meetings, denk aan congressen, strategiesessies, brainstorms en workshops.
WAT VOOR SOORT?
Wat voor visuele verslagen? Elk visueel verslag dat wij maken laat de essentie zien. Afhankelijk van de opzet van het event bespreken we waarop de focus van de visueel verslaglegger ligt. Bij een offline event tekent de visueel verslaglegger op groot formaat papier of digitaal. Bij online events tekent de visueel verslaglegger digitaal mee.