PRAATPLAAT LATEN MAKEN?
Jouw verhaal in beeld.
Of het nou gaat om het uitleggen van een strategie, een visie of verandering: een tekening ondersteunt je verhaal. Wil je dat er een helder gedeeld beeld ontstaat? Of dat je aan de hand van een plaat met elkaar in gesprek kunt gaan? Met een praatplaat brengen wij jouw verhaal in beeld. Zodat je een middel krijgt om met elkaar in gesprek te gaan en te laten zien wat jij bedoelt.
WAT DOET EEN….
…Praatplaat facilitator? Luisteren, vragen stellen en ondertussen een visuele structuur brengen in jouw verhaal. Door interactief met jouw verhaal mee te tekenen. In een visual conceptsessie helpt een praatplaat facilitator jou de essentie van je boodschap in beeld te brengen. Op een manier die past bij jouw doelgroep.
BEKIJK ONS PORTFOLIO
VOOR WIE?
Voor professionals die een boodschap willen overbrengen op een ander. Voor veranderaars, managers, bestuurders, beleidsmakers en professionals die met beeld hun doelgroep willen raken.
WAT VOOR SOORT?
Wat voor soort praatplaten? Uitlegplaten, beslisplaten, strategieplaten, pitches, beleidsplaten, stand-van-zaken-platen etc. Elk verhaal waarvan je echt wilt dat mensen zien wat je bedoelt, is te vangen in een tekening. Niet elk verhaal heeft een 'affe' tekening nodig. Soms is de schets al genoeg. En soms is er juist een hele reeks aan tekeningen nodig en wil je meerdere keren samen schetsen om meer mensen mee te krijgen in het maken van een getekend verhaal. Afhankelijk van wat je nodig hebt, zijn er uitgebreidere en minder uitgebreide opties denkbaar.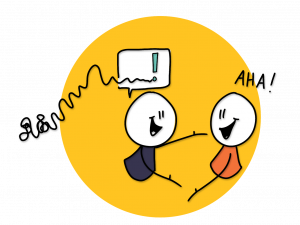 WAT HET OPLEVERT
Wij maken platen waarin je de essentie ziet. Dat levert duidelijkheid voor de verteller en de doelgroep aan wie het verhaal verteld wordt. Het proces om tot een praatplaat te komen levert ook op dat het verhaal scherper wordt, dat er keuzes gemaakt worden en dat er de basis voor een gemeenschappelijke taal ontstaat.
BEKIJK ONS PORTFOLIO
Het is mooi om te zien hoe enthousiast iedereen wordt van de prachtige praatplaten die de Betekenaar voor ons ontwikkeld heeft. Inmiddels worden ze door het hele land gebruikt als hulpmiddel tijdens gespreksvoering tussen cliënt en professional. Door processen visueel te maken brengt de Betekenaar verschillende werelden wat dichter bij elkaar.

Inge Zouterinks

Jeugdbescherming
Tekenen met je team? Samen een visie in beeld brengen?
Een tekenaar voor je event? Neem contact op en bel Rena,
zij koppelt je aan de juiste persoon.
030 227 00 18 • info@debetekenaar.nl