Als je een verhaal of boodschap hebt over te brengen, kun je daar het best een sterk visueel middel voor gebruiken. Een praatplaat. Dat is een tekening waarmee je je verhaal visueel ondersteunt.
Zo'n plaat kan jou én je publiek helpen. Het maakproces helpt jou in het scherp krijgen van je verhaal. Tekenen helpt je namelijk om tot de kern te komen. En de plaat zelf helpt je publiek om jouw verhaal te kunnen volgen, begrijpen en onthouden.
Met onderstaande tips lukt het je om je praatplaat waardevol in te zetten bij het overbrengen van jouw verhaal.
TIP 1 – WIJS AAN
Gebruik je handen terwijl je je verhaal vertelt. Wijs per onderdeel van je verhaal naar het deel van de plaat die dit ondersteunt. Zo kunnen mensen informatie verankeren aan een beeld, waardoor ze de informatie beter onthouden. Ook volgen ze zo de lijn van je verhaal, want het beeld wat je aanbied – in combinatie met je woorden – houdt de aandacht vast.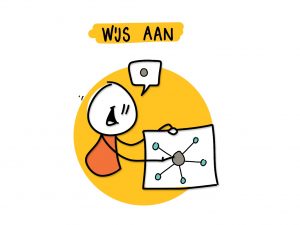 TIP 2 – VERTEL WAT JE BEDOELT
Laat je publiek niet raden naar wat je hebt getekend, of wat je bedoeling er mee is. Als iemand je vraagt: wat heb je getekend? Het lijkt op… Daarmee geef je de ruimte voor ruis. Om iets te interpreteren of anders uit te leggen dan jij zelf bedoelt.
Wees duidelijk over wat je hebt getekend en wat je er mee bedoelt. Probeer niet in de verleiding te komen om te zeggen dat het inderdaad niet lijkt, maar vertel gewoon 'dit is een medewerker' bij het poppetje dat voor bloem kan worden aangezien. Mensen zijn echt in staat om dan een poppetje te herkennen in jouw praatplaat.
TIP 3 – GEEF EEN KOPIE
Geef iedereen een kopie van je plaat, zodat je publiek aantekeningen kan maken én de plaat als reminder kan gebruiken.
DE DOE-DIT-VOORAL-NIET-TIP
Hang de praatplaat op, ga ervoor staan en doe je verhaal zonder de praatplaat actief te betrekken. Op deze manier leidt het beeld juist af, helpt het jou niet je verhaal te vertellen en je publiek niet om je verhaal te volgen of te onthouden.
EN NU?
Wil je een praatplaat leren maken? Check dan onze trainingen!
Liever een praatplaat laten maken voor jouw presentatie? Neem dan contact met ons op voor de mogelijkheden.